CHIPPING SERVICE OFFERED MONTH OF OCTOBER. CALL IN ON FRIDAYS FOR SERVICE TO BE COMPLETED THE FOLLOWING MONDAY. PLEASE HAVE LIMBS/BRUSH TOGETHER AND AT THE END OF YOUR DRIVEWAY OR BY THE ROAD.
Don't forget under the "City Hall" tab there are more things to click and learn.
Have you seen the new water tower with our Town logo?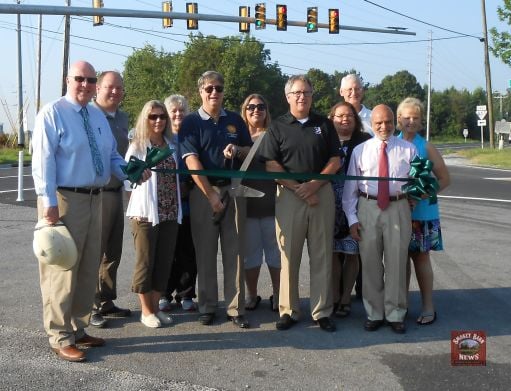 http://smokeybarn.com/20-years-in-the-making-49-market-intersection-project-complete/
The Town of Coopertown is an equal opportunity provider without regard to race, religion, national origin, political affiliation, sex, age or disability.
Coopertown is located 25 miles north of Nashville and 20 miles south of Clarksville on Interstate 24 in Robertson County, Tennessee. At nearly 25 square miles, Coopertown is a beautiful farm community that prides itself on family and community. The people of Coopertown understand the value of planned growth and the need for proper zoning to maintain its beautiful country charm. The Town of Coopertown now has a property tax. Services are provided by funds raised from local and state sales tax. Services include police protection, road maintenance, as well as building and codes enforcement. Fire service is provided by the Pleasant View Volunteer Fire Department.
---
For more details check out our Barrel Festival and Barrel Fest 5 Miler Race pages
under the Calendar tab above.
Like Us on Facebook
Town of Coopertown Facebook page
Coopertown Police Department page
Community Development Facebook page
Coopertown Barrel Fest 5 Miler Facebook page
The Frierson Chapel Church Directory is missing
If you have,information regarding its location
please contact City Hall at 615-382-4470
Springfield Weather Forecast, TN